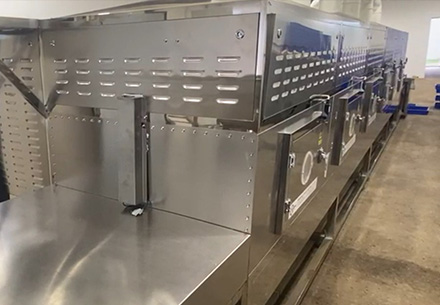 Canada Ecc Feed Inc bought black soldier fly larvae microwave drying machine from Shandong Joyang Machinery Co., Ltd in 2020.
Ecc Feed Inc sent an inquiry about the black soldier fly larvae microwave drying machine to my company. And we learned that there is a big market for BSF Larvae breeding in North America. The dried Black soldier fly larvae can be sold directly or deeper processed. It has high nutritional value and can be added for feed as animal protein, and it also can be directly fed to pet animals. Ecc Feed Inc has extremely high standard requirements on the quality of the dried black soldier fly larvae.
After understanding the details of the project, our sales showed him the videos and the final samples of dried black soldier fly larvae which were processed by our machine. After drying, the black soldier fly larva was bright in color, and the original shape was wonderfully kept. After detailed discussions with our engineers, we provided professional solution for Ecc Feed Inc. Various customized designs and upgrades have been carried out on this microwave dryer based on his specific requirements on the drying of black soldier fly larvae. Our professional and accurate solution was accepted by them finally.
Ecc Feed Inc chose our company as a partner finally, and purchased various accessories as a reserve. After receiving the machine, our engineers guided the customer to complete the machine installation online. Now the machine is working perfectly, and the final product dried by the microwave dryer also meets the customer's requirements. With the expansion of the customer's production scale, the customer decided to purchase another new microwave dryer with higher capacity. The new purchase order is currently under discussion.